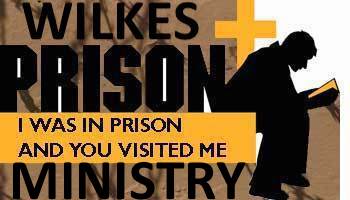 WILKES PRISON MINISTRY

​ WILKES PRISON MINISTRY TRANSITION HOUSE
---
Wilkes Prison Ministry
Transition House
Mission Statement

"To provide a supportive, secure, disciplined and faith based temporary residence for ex-offenders
from the Wilkes Correctional Center, while assisting them back in their transfer back into society".
The idea of a Transition House for ex-offenders from the Wilkes Correctional Center began to take shape in October of 2006. A need was recognized for providing
a smooth transition from incarceration to returning fully to society. Many hours were spent in defining the vision of the Wilkes Prison Ministry Board of Directors. A
special committee was formed to meet on a regular basis and they reported back at each monthly Board meeting.

It was decided that the following strategies needed to be implemented to assure a successful residence.
Write a mission statement.
Visit other facilities similar to the one planned.
Speak with directors of similar facilities.
Determine whether a building would be bought or rented.
Provide a clear set of rules that must be followed by the residents of the house.
Ensure that the facility be faith-based.
Get different points of view of a transition house (ex-offenders, prison staff, chaplain).
Decide on an interviewing process and develop an application.
Ask the United Way for financial assistance.
Read literature to give a better understanding of what is involved with a temporary residence.
Present a list of what constitutes a potential resident.
List ways of financial support for the residence.
Consider what qualifications were needed in providing a residence manager.
The committee began to look seriously at properties suitable for this endeavor in June of 2007. In July of 2008, a property became available to rent. The Board of
Directors decided that this was the best avenue to pursue at the present time. The house consists of 3 bedrooms, 2 full baths and an unfinished basement that
could potentially be turned into more bedrooms. The only repairs needed were cosmetic. Members of the Board of Directors cleaned and painted the facility. The generosity of the community was shown by the overwhelming number of donations, furniture, housewares, oil, labor and food.

A budget was established for the effective running of the house. The goal is to eventually have the Transition House to become self-sufficient by having the residents
pay rent. An interviewing process is now in effect to rent to ex-offenders who best seem to have the ability to effect a new start. In January of 2009, the first resident
moved into the house. Other residents are continuing to move in. Even with the best of intentions, some residents have had to be dismissed for a variety of reasons,
mostly for infractions which have a no-tolerance rule. Recently, the Board of Directors has decided to open up the Transition House to ex-offenders from other
Western North Carolina Correctional Centers.