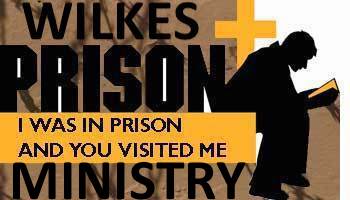 WILKES PRISON MINISTRY


​ NEWS RELEASES
---
For Immediate Release

11/29/2017
Christmas Season at Wilkes Correctional Center
As we enter the Christmas season, Wilkes Prison Ministry is busily putting gift packages together for inmates. There will be sacks for each of the 268 men housed at the North Wilkesboro facility and a few extra for new arrivals that come shortly after Christmas. The much anticipated gift bags include toiletries such as deodorant, soap, tooth brushes, tooth paste, shampoo and shavers and assorted candies. There are also cards for each inmate and Bibles are offered to those who will accept them. The gift bags will be distributed on December 21st following a Christmas meal, also provided by Wilkes Prison Ministry. The distribution will be followed by a worship experience led by Yokefellow. Yokefellow provides a worship experience every Thursday evening at Wilkes Correctional Center.
The Thursday Yokefellow worship is one of twelve weekly services organized by Wilkes Prison Ministry. Services range from a Wednesday morning Prayer and Share meeting to twice weekly Movie and a Message and numerous services led by local preachers, musicians and teachers.
The ministry's chaplain, Rev. Larry Ford, emphasized the importance of the Christmas project as he discussed the work of the ministry. He said, "This is a great opportunity to show true Christian love to these men. That's the major emphasis of our ministry. Most of our inmates are nearing the end of their prison sentences and we want them to enter society as men who have been sincerely changed. We know that God's love is the most transforming force in the world."
In the 2017 calendar year, 29 men have been baptized at Wilkes Correctional Center and many more have made changes in their behavior.
Wilkes Prison Ministry has affected thousands of lives over more than a decade. It is run by a volunteer board, comprised of local men and women. Additionally, over 100 people volunteer in their programs and services.
Ford stated, "The men here are not experiencing "jailhouse religion" for some special privileges or sentence reductions. They have already served most of their time and are close to release. I'm convinced that their faith experiences are mostly sincere. I've often said that lots of people find the Cross at the end of their rope."
Wilkes Prison Ministry also operates a Transition House, where they host up to four recently released men at a time. Transition House Committee Chairman, Mark Church, commented, "The Transition House is an important part of our ministry. These guys have already been released and we want to help them transition into the best men they can be. We firmly believe that the best way to do that is through the power of Jesus Christ."
Ministry Chairman Roy Williamson said, "The Christmas bag ministry provides us with a way to reach the men who don't usually visit the chapel. For many of these men, it's the only Christmas gifts they will get. It's always a wonderful experience to be able to share the joy of Christmas."
​
Wilkes Prison Ministry's website is
www.wilkesprisonministry.org
.
Donations can be sent to Wilkes Prison Ministry, PO Box 253, N Wilkesboro, NC 28659.
---
​​​For Immediate Release
July 5, 2017

12 Baptized During Revival at Wilkes Correctional Center

(North Wilkesboro) Wilkes Prison Ministry conducted a revival at the state prison, on Statesville Road, from June 27 through July 2nd. Main speaker, Rev. Kenneth Barr was joined by Rev. Craig Church, Rev. Robert Duncan, Rev. Larry Ford and others for the six night event. The event was well attended and brought over three dozen inmates together in worship experiences. Ford, the Chaplain at Wilkes Correctional Center, conducted a forgiveness ceremony on Saturday night, where inmates lined up to forgive others for wrongs against them. They were instructed that forgiveness of others was required for God to forgive them. Several of the inmates stated that they felt relieved of pressing burdens after the ceremony.

The week ended with the baptism of twelve inmates on Sunday evening. The baptism service was followed by the commemoration of the Lord's Supper.
Wilkes Prison Ministry Board Chairman, Roy Williamson, reported that total baptisms, for the calendar year, are now 19 at the institution.
Chaplain Ford said, "God is definitely working here. He proves daily that no life is beyond redemption." He also said, "This is not some "jailhouse religion" that inmates hope will get them released or somehow favored. Our guys are usually nearing the end of their sentences and truly want to change before returning to the outside world."
Wilkes Prison Ministry utilizes a list of 67 volunteers to conduct twelve services each week at the unit. Due to varying work release schedules, services are held at diverse times during mornings, afternoons and evenings.
​
Chaplain Ford is currently speaking at as many churches as possible to share the mission and work of the Wilkes Prison Ministry. He is available for small and large groups and can be reached at 336 667-4533 or 336 609-0710.
---
For Immediate Release
February 7, 2017

Seven Baptized at Wilkes Correctional

On Sunday, January 20, seven men were baptized at Wilkes Correctional Center. The men were all new believers or recently dedicated themselves to a life with Jesus Christ. The baptisms were conducted by the chaplain, Rev. Larry Ford, Barry Stoker and Justin Bushey. Rev. Stelphen Stolphus also participated in the service. Among those present to witness was local businessman Mark Church, the immediate Past-Chairman of the Wilkes Prison Ministry. He said, "It was great to see these men being baptized. Serving with the prison ministry has been a real blessing to me. In Matthew's Gospel, Jesus tells us that we are serving Him by feeding the poor, clothing the naked, caring for the sick and visiting the prisoners. Wilkes Prison Ministry gives us the opportunity to visit the prisoners and to make it possible for others to serve them."

Wilkes Prison Ministry is a local non-profit organization and provides Christian services, counseling and other things for the inmates. Chaplain Ford is employed by Wilkes Prison Ministry, with no taxpayer money being used. Currently, there are services held every night, Tuesday through Sunday, at the facility and Sunday School weekly and daytime services on Monday, Wednesday, Thursday and Friday.

Roy Williamson, Chairman of Wilkes Prison Ministry, emphasized the importance of volunteers, "We currently have 88 volunteers serving with the ministry. They are very dedicated to the ministry of reaching those who do not know Jesus and those who have become diverted along the way. In addition to these volunteers, people are serving by contributing to the ministry. Many local churches provide financial assistance. And people help in lots of other ways. Just as an example, Wilkesboro Baptist Church recently contributed forty hymnals. The people of this area are very helpful."
Ford emphasized that that it was a community wide effort. He noted that the Brushy Mountain Baptist Association provides Sunday School materials and that there were speakers from Methodist, Baptist, Mennonite, Disciples of Christ and other congregations. "We have no denominational preferences. We are a Christian organization but we offer services for all faith groups that meet state qualifications. In fact, we ask our speakers to leave their denominational preferences at the gate. Wilkes Prison Ministry was organized in 1990 and opened the Religious Service Center in 2001, also at no taxpayer expense. The Religious Service Center is available for all religions and is also used for other activities, such as GED testing and other educational and Department of Public Safety needs.
Statistics show that the criminal recidivism rate is greatly decreased for inmates who have had a faith-based experience while incarcerated.

Rev. Al Andrews, WPM Vice Chairman, oversees the Chaplain's Re-entry program, which instructs inmates on things like good self-esteem, problem solving, finances, employment, building healthy relationships and more. Like other aspects of the ministry, classes are available to all inmates without regard to their religious beliefs.

​Chaplain Ford can be reached at 336 667-4533.