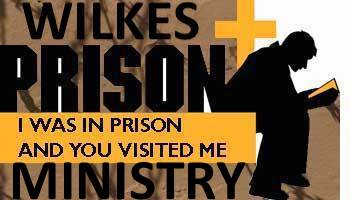 WILKES PRISON MINISTRY
​
We are always searching for more community involvement. Right now, we are really searching for more Community Volunteers to take inmates to church.

​if interested, please contact Chaplain Ford at 336-667-4533,
336-609-0710 or at chaplainford@icloud.com.
---
CHAPLAIN'S MONTHLY REPORT
September 2017

We held 12 services each week in September with 97 volunteers.
There was 1 profession of faith and 1 rededication to Christian living.
​In order to introduce new arrivals to our services, we distributed toiletries to every new inmate.
​Movie and a Message continues to bring new people to the chaPel. Over 400 men attended in September.
​The monthly Birthday party was the best yet and was co-sponsored by Gospel Way Baptist Church, of Yadkin County.
​Our new superintendent, Harold Reep, is very open to working with us.
​We had a few women relatives of our inmates.
Chaplain Ford participated in Kairos Foothills 15 in Morganton.
​We finished our Angel Tree applications and the forms have been delivered.
​We are working on One Day with God, bringing Crossfire Ministries, the Kinders Gospel Singers and others to Wilkes Correctional Center.
Prayer and Share continues to grow and is touching lives.
​Chaplain Ford continues to increase his time on the yard and in the dorms. Many inmates have had bad images of church and showing the love of God is one of our most important ministry aspects.

September 2017: 1273 Total Inmate Participation and 97 volunteers.