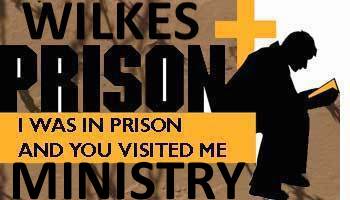 ​​​WILKES PRISON MINISTRY


​COMMUNITY SPONSORS AND MENTORS
---
When a volunteer has been with the Wilkes Correctional Center (WCC) for approximately one year they can become eligible to become a Community Leave Sponsor (CLS). A CLS would be authorized to take an inmate that has meet all state requirements for minimum level custody out on leave to approved events. At WCC we only have two approved leave passes. One is for going to narcotics anonymous meetings and the second is for religious services at approved locations. Any other leave passes would be subject to the facility head of WCC.

The CLS would be responsible for having the inmate to stay with them at all times. If the inmate breaks any of the conditions of the leave it is the CLS responsibility to report the incident by telephone immediately to the WCC.

Even though we have wonderful meetings in our Chapel at the camp, most of these men want to go out and worship God with fellow believers in the community. This is an awesome ministry to show these men that they are loved and they are worth the effort. We have all strayed from the righteous path of God at some point in our life. Sometimes we need help getting back on the path. This ministry is one way of helping that man find the right path.

Please see below rules and regulations of this ministry.


Community Leave Sponsorship

(1) When a volunteer is certified as a Community Leave Sponsor, they may be authorized to take eligible minimum custody inmates into the community for pre-approved activities. While on Community Leave Pass inmates will not have any contact with relatives, unless the Facility Head or designee authorizes an exception for a special event such as a graduation ceremony of an immediate family member. Immediate family is defined as farther, mother, brother, sister, husband, wife, child, foster parents, or other persons who have acted in the place of parents where such relationships can be verified." Volunteers must report all violations to appropriate facility staff. (2) Outside activities that are approved should be limited to those that improve the skills of the eligible inmate, develop more responsible behavior, or prepare them for successful reentry into the community.

(3) Assignment to the required minimum custody level should not be the sole criteria for approval of inmates to participate in outside activities through the Community Volunteer Program. The inmate's overall behavior and adjustment to prison should be considered prior to authorizing any leave.

(4) Prior to final approval for Community Volunteer Program participation, the IM06 screen (Victim County Conflict Screen) will be reviewed to ensure that if there are victim conflicts relating to housing and community based program participation that those factors will be considered during the review. For additional information, refer to the DOP Victim policy section D.0909.

(5) The immediate supervisor will thoroughly orient the community volunteer sponsor and the inmate to the conditions of the leave before an outside activity is approved.

(6) Form DC-142 (Agreement for Extension of Limits of Confinement) must be completed by each volunteer and each inmate who is involved in community leaves.

(7) A file copy of DC-142 (Agreement for Extension of Limits of Confinement) will be retained in the Volunteer Coordinator's files. The original DC-142 will be retained in the inmate's facility file.

(8) When an outside activity for an inmate is approved, Community Volunteer Leave Passbook, Form DC-260, must be completed. The Passbook will be issued to inmates at the time of their departure. It must be kept on their person during the period of the activity and returned to staff when the activity is concluded.

(9) The maximum number of hours authorized for any leave may not exceed six hours. Time may be extended to a maximum of ten hours for special activities with approval of the respective Facility Head or designee. An inmate may be allowed a maximum of three leaves per week.

(10) Community leaves must terminate no later than 10:00 p.m. unless special permission is granted by the approving authority.

(11) A community leave will be authorized on a one volunteer to one inmate ratio. Exceptions may be approved by the respective Facility Head or designee for inmates in level III only. This should be permitted only in the case of organized activities. However, no certified volunteer shall be allowed to supervise more than three inmates at any given time.

(12) All leaves must be explicit as to event, location and time.

(13) The volunteer must agree to refrain from using any alcoholic beverages, narcotics, or other drugs except those lawfully prescribed for them, while sponsoring an inmate on any outside activity. If any impairment results from lawful prescribed medication, the volunteer must refrain from any volunteer activities.

(14) The community volunteer must agree to return the inmate to the facility or to report by telephone to the facility if a condition of the leave is broken.

(15) Female volunteers will not sponsor male inmates on outside activities; male volunteers will not sponsor female inmates on outside activities.

(16) The community volunteer must remain with the inmate at all times during the outside activity.